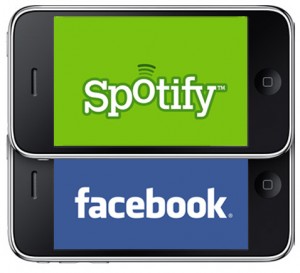 Laut des Wirtschaftsmagazins Forbes soll der Musikdienst Spotify in Facebook integriert werden. Bereits in zwei Wochen könnte das Spotify-Logo in Facebook erscheinen:
The integrated service is currently going through testing, but when launched, Facebook users will see a Spotify icon appear on the left side of their newsfeed, along with the usual icons for photos and events.

Clicking on the Spotify icon will install the service on their desktop in the background, and also allow users play from Spotify's library of millions of songs through Facebook. The service will include a function that lets Facebook users listen to music simultaneously with their friends over the social network, one of the sources said.
Wahrscheinlich wird der Service zuerst in den Spotify-Ländern sowie den USA verfügbar sein. Buchbar ist er bereits über recordJet.com!
Quelle: Forbes