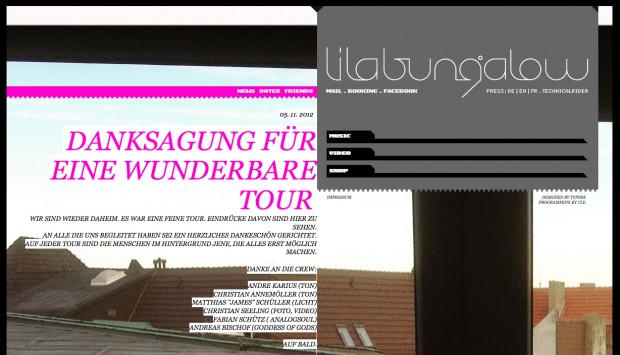 In 2012, bands could barely exist without a proper Facebook page. We think you've probably mastered the basics of DIY promotion quite well at this point, and now it's time to go one step further: Your own band homepage!
Marc Weissenberger from Local Heroes Radio (Germany) published a very detailed essay called "Newcomer Marketing (Essentials)". If you understand German we recommend reading the original piece. For all the rest of you we present the essence of his article here:
The technique – automatic vs. self-made
To create a professional band homepage, you need to familiarize yourself with the basics of web design like HTML and CSS. They are also very useful when you use homepage construction kits like iWeb and when it comes to fine-tuning. It's comparable to presets in music sequencing programs: you may get a nice sound with them, but if you don't want to sound like anybody else, you've got to turn the knobs to create something individual. Nevertheless, it's likely that nearly every band has a friend who knows at least the basics of web programming.
WordPress Music is a pretty new web-based tool you might want to try. With WordPress Music, it's quite easy to create a website that contains everything a band homepage needs (see below). But there's a catch: it's not free. WordPress costs $13 per year for an individual domain. The option to customize the design costs an additional $30 per year.
Conclusion: Those who don't know anything (and don't want to know anything) have to pay or back down, because with the necessary knowledge, you can create a WordPress website yourself and for free in just a few clicks. To do it yourself, you only need to install WordPress on your own web space. Some web hosts even offer 1-click-installations for no additional cost. You can adapt and change the various free designs and plug-ins and get a really individual result.
We think that familiarizing yourself with the basics of web design is absolutely worthwhile. There are lots of resources on the Internet. It's also fun, even though it takes some time. But in return, you can have the exact result you want, and you won't have to make compromises due to an insufficient budget or tool or because you don't understand the tool. So let's get to work:
The content – 10 things every good band homepage needs:
1.    Layout/design:
Actually, it should be self-evident, but we'll mention it for the sake of completeness: The design and visual appearance of your homepage should be adapted to your band name. The pop band "The Barbies" will certainly design its homepage in a different way than a death metal band. And that's all right. We are probably talking (in a little polemical way) about pink stars and hearts vs. dark red and black colors with skulls and distorted faces. Your band homepage is your visual showpiece and it should match your musical genre, your band name and reflect the way you see yourself. After all you are establishing your image with your homepage.
2.    News area (concerts, releases, studio dates, etc.)
The news area is one of the most important parts of your band homepage. It contains all current events and information that is important to your fans. Next week's concerts had to be cancelled because the drummer broke his arm while skiing? Put it in the news area. You've finished a new video? Put it in the news area. You're starting a crowdfunding campaign for the production of your next album? Put it in the news area, of course.
3.    Tour dates with current and updated (!) gig list and the option to buy tickets (or a contact address)
Tours and concerts are a great way for bands to stay in contact with their fans, to show their skills, to get new fans and to sell CDs and merchandise (which is a source of revenue that you should not underestimate). Therefore, you should always provide a list with all upcoming concerts in a visible place on your home page and update it regularly. Dates you played two years ago? Remove them! Dates of a tour that starts in six weeks? Absolutely have to be there! We also advise you to add a link to ticket sales or a contact address – make it as easy as possible to your fans to see you live.
4.    Band biography and press area
As described in our article "7 steps to the perfect press kit for bands and musicians", a band bio is an absolute must-have on every band homepage. It is not only interesting for fans but also for bloggers and music journalists who want to write something about you. Questions you can answer in your biography are: Who, where, when, why and how? Make sure to keep the writing style as down-to-earth and objective as possible, otherwise it might sound like exaggerated self-praise. You should also have a press area containing every article that has been written about you.
5.    Gallery
This is the place where you can put all the lovely pictures of your concerts or professional studio photos. In order to keep the load time as short as possible, you should reduce the resolution a little bit. A gallery is mostly interesting for new fans who want to get a visual impression of your band.
6.    Audio and video
If you are not registered with a performance rights organization (e.g. GEMA in Germany), you can decide how to spread your music. For example, you can embed links from YouTube and Soundcloud to make your videos and songs available on your homepage so that fans and guests can listen to them and watch them. If you are registered with a performance rights organization, this becomes a little more difficult. We recommend that you take a look at Marc Weissenberger's essay first and ask the contact person at your performance rights organization.
7.    Download links to iTunes, Amazon, etc.
You want to sell your music – so make it easy for your fans to find it! Place links to your music in the stores in a visible place. The best place is the start page of your band homepage, of course.
8.    Legal notice and contact (for booking, etc.)
Marc Weissenberger recommends creating a separate email address for booking requests aside from the general contact email address, even if one single person takes care of all the requests. The reason for this is that it looks more professional to bookers. It also allows you to check your emails separately, which means you won't miss an extraordinarily interesting booking request between the hundreds and hundreds of other emails. Furthermore, in some countries a proper legal notice is mandatory, even for a band homepage. Without a legal notice, you may very quickly receive a warning (for example in Germany).
9.    SEO – matching key words
Many people still underestimate the importance of being findable via search engines. SEO (Search Engine Optimization) gives your band homepage the key words that users are searching for in search engines, which in turn look for content including these words. If somebody from Munich is looking for a local synth-pop band, they might enter "synth pop Munich", or "synth pop band Munich" in Google. If you have made a good choice of key words in your CMS (Content Management System, for example WordPress) (and if you are a synth-pop band from Munich), this can be how Google finds you. And again: you should definitely familiarize yourself with the subject or ask somebody who knows something about it. You can achieve great things with clever SEO.
10.    Social Media connection
Many fans always want to know what's going on and what news you have. You can inform them with a newsletter (but please don't send them too excessively), but these days, a link to your social media activity (Facebook, Twitter, Instagram, etc.) is even more sensible. Generally, most providers offer various plug-ins that you can easily include in your band homepage.
Are you already experienced in creating your own band homepage? Did you do it yourself or with a "construction kit"? How is SEO doing? Do you have something on your homepage that we have forgotten to mention? And what are your favorite band homepages? Write us a comment below :)