Tips
| by
Angela Peltner
| 31. January 2020
The Captain's recommendation: 3 tips on how to get the best out of Spotify (Update: February 2020)
Spotify is more than just the most successful streaming service in the world. The platform added a further five million monthly listeners in the second half of 2019, which brings us to the handsome sum of around 248 million monthly listeners worldwide. Quite simply, Spotify is THE place to be for the listeners, labels, bookers and even radio stations. Every day, hundreds of new playlists and thousands of new songs and artists are listened to on Spotify, but there are millions of potential new listeners for you. Wouldn't it be great if you could really take advantage of this world stage?
We have come up with the most important beginners tips to help you benefit from Spotify as best as possible.
In this article, you will learn
How to get yourself a verified Spotify account,
What you can do with your Artist Profile on Spotify,
How to add team members to Spotify for Artists, and
Where you need to go to learn the best way of getting onto playlists.
NOTE: Spotify's functions are constantly changed and improved. It may therefore be the case that links in this article do not always work, or the procedure or the appearance of individual steps has changed. In this case, a Google search or a request from Spotify Support should help!
Get Ready: The coveted blue tick. Get a verified Artist Account on Spotify
The first step to successfully using your Spotify profile starts with a small blue tick. This means that you need a verified account, so that you can get going as fast as possible. With a verified account, you're indicating to your fans that it is your "real" account. Another advantage of having a blue tick is that listeners can follow your Artist Account on Spotify. Your "followers" will also be notified as soon as you share a new track or a playlist. And, of course, your verified account will be linked with your discography, making it easy for your fans to browse your music.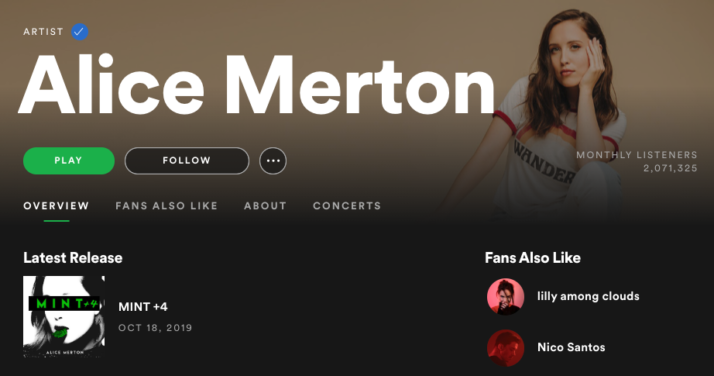 All you have to do to get a blue tick is to get access to Spotify for Artists for your Artist Account. Normally, you get the blue tick on your profile shortly after registering. If you have any questions or problems with this, please contact the Spotify for Artists Support. Also remember that you must first put your own music on Spotify before you can claim your verified account. The recordJet crew will be happy to help you with that. Once you have claimed your account, you can work with Spotify for Artists – and this tool really has everything…
The Magic Word: Spotify for Artists. The basics of the super tool.
Since Spotify introduced data tools for artists in 2015, they have had countless conversations with artists and management all over the world to make this aspect of their service as useful as possible. And it has paid off: Spotify for Artists is constantly developing new functions that allow you as a musician more transparency and more insight into your data.
1. Personalise your Artist Profile
Now that you are a verified Spotify Artist, you can modify your public profile and make it exactly what you want it to be. In your profile, you can edit your artist image, feature songs and special songs that you like. Add and edit your playlists. Unleash your creativity:
You can change your artist photo as often as your outfits. Sounds like quite a lot of work – and it is – but it can also be useful depending on the campaign.
In order to complete your profile, you can alter your artist's bio directly in Spotify for Artists. This gives you the opportunity to tell your fans more about you and your band and to give them a taste of your personality, creativity or your sense of humour. Use this opportunity!
If you have already made features with other artists or have been a support act for a larger band, you can link these artists in your bio.
In addition to your artist bio, you can pimp up your profile with a photo gallery. These photos could be official press pictures, photos of yourself when making music in the studio or live on the road. You can edit the gallery using the mobile app Spotify for Artists.
In addition to Spotify, Instagram and Facebook are important cornerstones in your portfolio as an artist. You should be sure to add your social media accounts to your Spotify profile, in addition to your artist bio and photo gallery. You can add the links from your Instagram, Facebook and Twitter profile under the "Further Information" box on the Spotify for Artists page.
2. Add Team Members
Add people to your Artist Account who can support you in your work. This feature could be your key to success. Any musician who works on Spotify a lot knows how much work it takes to do everything right. So why not share the load? To do this, you just need to click on the little arrow next to your artist name. Then just select "Manage Team" from the menu and grant access to your team members.
3. Heavy Rotation – Playlist Pitching
Since 2018, it has been possible for all artists to suggest their unpublished music directly to the Spotify editorial staff, once it has been delivered by distribution, so that their song can be included in a playlist curated by Spotify. We have written a very detailed article on this.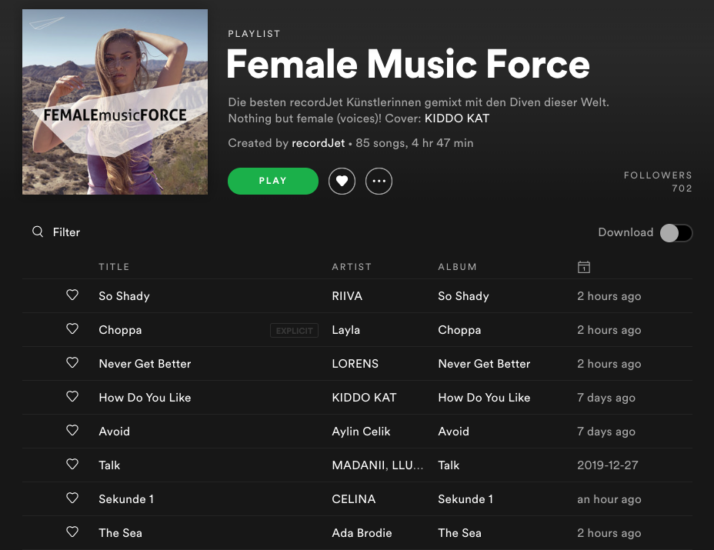 Spotify for Artists also has an improved Help Center, where it is easier to get answers to your questions.
Phew. As you can see, Spotify is a universe that is constantly expanding. But it also gives you the possibility to grow too. It is an adventure and requires a lot of work. But hey, we are at your side. May the force be with you.
We look forward to hearing you on Spotify.