With our series "Co-pilots, naked", we'd like to present to you the pros behind our services – because we are thrilled about working together with them, and absolutely confident of the quality of their work.
Undressing for you today: Valéry (left) and Nick of brokenmusic.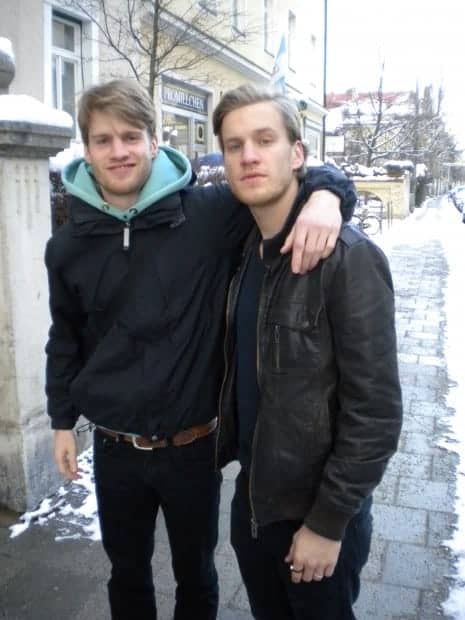 PROFILES

Name: Valéry Döhler
Age: 25
Where do you live: Berlin
Favorite place: My desk
Hobbies: Athletics, value investing & pop culture
Favorite instrument: Guitar (though I don't play it myself)
Favorite music: Hip hop
Education/professional training: B.Sc. in economics und M.A. in economics & business administration
Which topic do you like to discuss the most? American movies and gin & tonic
What's your life philosophy? Grab every opportunity – or anything that looks like one.
What was the first record you ever bought in your life, and what was the latest? The first one was probably the Backstreet Boys. The latest one was The Heist by Macklemore & Ryan Lewis
Name: Dominik Döhler
Age: 24
Where do you live: Berlin
Favorite place: On stage
Hobbies: Music, sport & partying
Favorite instrument: Electric guitar
Favorite music: Country
Education/professional training: Trained as a professional musician, plus I studied music science
Which topic do you like to discuss the most? Death penalty
What's your life philosophy? Nothing ventured, nothing gained
What was the first record you ever bought in your life, and what was the latest? The latest was Gaslight Anthem – Handwritten. The first one was of course Blink182.
INTERVIEW

Who are you?
Valéry: We are brokenmusic, the world's first online platform for recording studios and sound engineers.
Dominik: In the beginning we were three founders, Valéry, Daniel and I. Our team has meanwhile grown to seven people.
Valéry: I think, apart from recordJet, we are one of the very few start-ups based in West Berlin.
What do you do on a long day? How and why did you found brokenmusic?
Valéry: Unfortunately, the day is never long enough to get everything done, but if I really feel bored I'll stream an entire TV show through the night or get stuck on weird online blogs.
Dominik: It's actually quite similar for me. After a day in the brokenmusic office, I usually spend long hours in our rehearsal room and write my songs. This is also how the idea for brokenmusic was born. As a band, we used to spend days or even weeks organizing our productions. With brokenmusic, it now only takes a few minutes.
What is so special about brokenmusic?
Dominik: It's so easy to find an awesome engineer. I can see everything at a glance: Capacity, skills and equipment. But the coolest thing is probably the option to immediately book or request a booking. Payment is safe and only takes a few minutes. Thinking about the old standard ways of booking a studio makes me feel nauseous…
Valéry: First of all, we want to offer the best customer support possible. We take care of all requests immediately and are available 24-7 for emergencies, criticism and feedback.
How did you become a recordJet co-pilot?
Dominik: Valéry, this is your turn!
Valéry: We were actually pretty lucky. We were looking for marketing partners but only wanted to work with a select few. recordJet is probably the most innovative team in the area of digital distribution at the moment, so the decision wasn't hard. They welcomed us with open arms. After a phone call and a meeting at the Berlin Music Week, our partnership was a done deal.
What was the strangest experience you've had during your work, and what would you rather not have experienced?
Valéry: Aahhhh I am dying to tell you an awesome anecdote, but at brokenmusic we keep secrets safe.
Dominik: There were definitely some useless acquisition phone calls and hate mail.
What is your ultimate tip for our passengers?
Dominik: Teamwork is everything. Never hesitate to accept a challenge.
Valéry: I totally agree. Sit out stressful situations and work until you drop. There's nothing more satisfying.
Optional: Tell us your favorite joke
Valéry: In our latest job posting we actually said that we always laugh a lot at brokenmusic. But of course right now I can't remember of any jokes.
Dominik: We'll provide it ASAP. As we already said, your passengers can reach us 24-7.
Last words? Is there anything you really want to say, which you haven't yet been able to share?
Dominik: Go to the studio. It's for eternity. Nowadays it's so easy to produce music, thanks in part to brokenmusic. It's an incomparable feeling.
Valéry: If you're looking for a studio and seriously cannot find the right one on our platform, then feel free to kick our asses via email, phone or a homing pigeon. We will find the perfect recording solution according to your wishes. For free, of course!
Valéry and Nick, thank you very much for the interview :-)
Click here to learn more about booking a studio with brokenmusic.